If you are in the market for new mini-PC to run some services in your home such as Home Assistant, Plex Media Server, Grafana, InfluxDB, Docker containers, or more, this post is for you. I will cover three Beelink mini-PCs that all support Proxmox and can run a variety of workloads without breaking a sweat. All three are highly power efficient, using less than 8w with active workloads…including Home Assistant. 
Beelink is more affordable than Intel NUCs, and offers a mixtures of both Intel and AMD based mini-PCs. They offer 12th Gen Intel CPUs, including the Q1 '23 released N100 processor. In this post I cover the following three Beelink models, with the focus of running Proxmox on them with multiple workloads:
Beelink Mini S12 Pro (Intel 12th Gen N100)
Beelink SEi12 Pro (Intel 12th Gen Core i5-1240P)
Beelink SEi12 (Intel 12th Gen Core i5-1235U)
Depending on your budget and performance requirements, you have a variety of choices. I've personally owned all three models and this post represents my hands-on experience with all three. 
I received a comment stating that not all Beelink mini-PCs support SMART drive reporting. I can verify on my N100 and i5-1240P Beelink mini-PCs that they report what look like accurate SMART stats. I no longer have the i5-1235U (upgraded it), but I'm 99% sure I checked SMART stats on there and they were working.
May 4, 2023 Update: I successfully setup Google Coral m.2 PCIe passthrough to a Frigate Ubuntu VM on Proxmox. I also setup Intel GPU PCIe passthrough to the same Frigate VM and was successful. I have not tried any other OSes like Windows. 
Beelink SEi12 Pro Intel Core i5-1240P
If you want a powerhouse mini-PC for Proxmox, then the Beelink SEi12 Pro with the Intel Core i5-1240P is an outstanding option. It features a 12th Generation Intel Core i5-1240P CPU with 12 cores and 16 threads, DDR5 RAM, 2.5Gbps NIC, 500GB NVMe SSD and more. It would take a lot of VMs and LXCs to push this CPU. 
Idling my CPU usage is 1-3% running Home Assistant OS VM, an Ubuntu VM for Docker, and 7 LXC containers including a Plex Server. If I stream a 4K HDR video with hardware transcoding via Plex, CPU utilization is basically unchanged from the 1-3% idle…which is insane!
Beelink also offers a SEi12 (non-pro) that uses an Alder Lake CPU (Core i5-1235U) but is less expensive. Beelink distinguishes the SEi12 "Pro" from their regular SEi12 line with a number of upgraded features. The Pro features these upgrades:
Intel Core i5-1240P (12th Gen Alder Lake, 4x P cores, 8x E cores, 16 threads) 
Dual-channel DDR5 (16GB standard, expandable to 64GB)
2.5Gbps Intel NIC
Thunderbolt 4 Port
Standard to both the SEi12 and SEi12 Pro lines:
Brand name 512GB PCIe 4.0 SSD (mine had Kingston)
Brand name dual channel memory (mine had Crucial)
WiFi 6 (not 6E)
2 Fans
Space for 7mm SATA SSD
Dual HDMI Ports
Auto power on BIOS setting
Supports Intel VT-d
If you don't want to pay the upgrade fee for the "Pro" line ($130-$170 more depending on sales/coupons), the Beelink SEi12 with Intel 12th Gen i5-1235U is a strong choice. That CPU only has 2x P cores and 8x E cores, 12 threads and is paired with DDR4 RAM. Beelink's CPU comparison is below.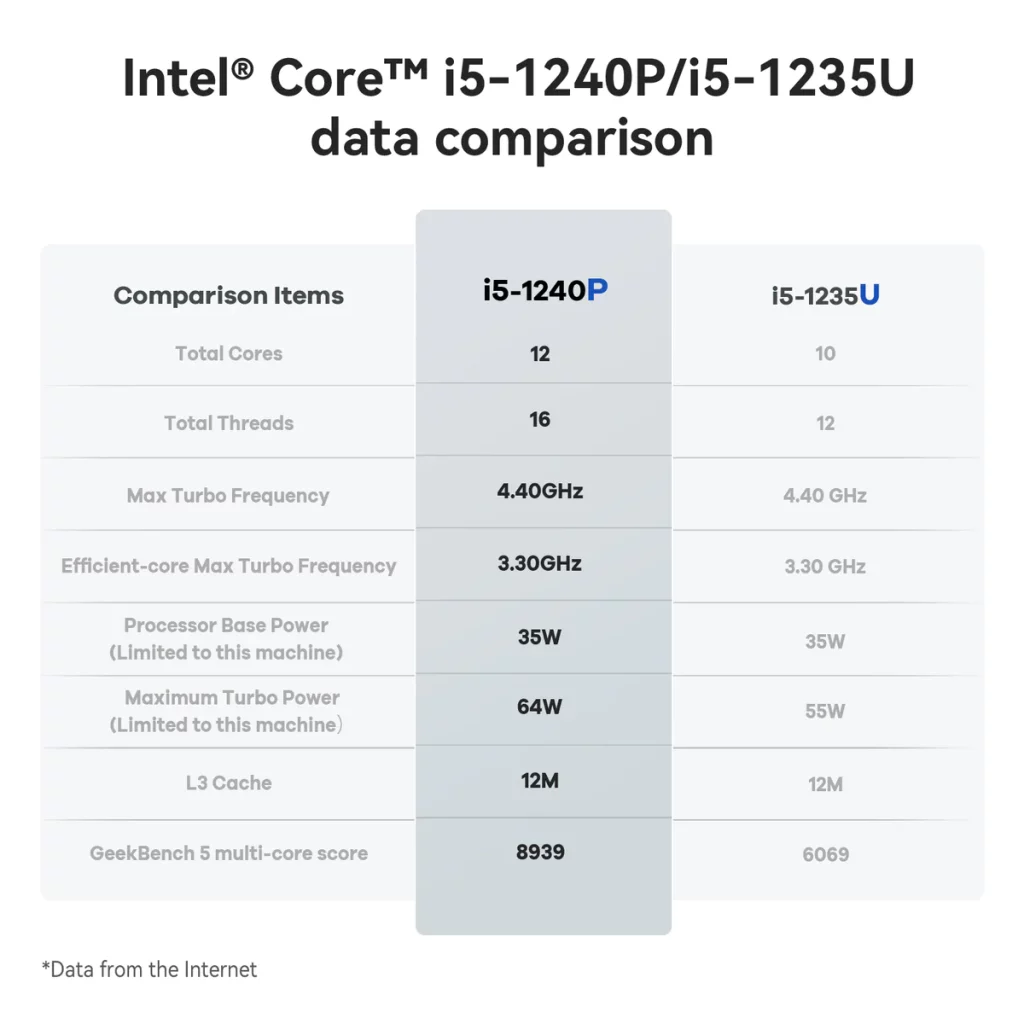 The SEi 12 Pro is very compact, at less than 5″ square and under 2″ high. It is very well built, and pretty heavy. Much heavier than the Mini S12 Pro with the N100 CPU. Internally the heatsinks provide cooling for both the CPU and the NVMe SSD. The two fans are whisper quiet while running 2 VMs and a number of LXC containers. The top is actually perforated and covered with a breathable mesh which the fans pull air through (so don't stack something on top). 
The 12th Gen Core i5-1240P is extremely power efficient. Stead state power draw is 8w with running Home Assistant OS, Plex Server, a number of LXC containers, and an Ubuntu VM. 8w is fantastic for such a powerful CPU. Of course running more CPU intensive workloads will push that power up. 
Proxmox VE 7.4 with the latest 6.2.x kernel runs fantastically on this mini-PC. I did have to use the nomodeset GRUB flag to boot into the Proxmox GUI installer. But after that no special configuration was needed to install and run Proxmox 7.4.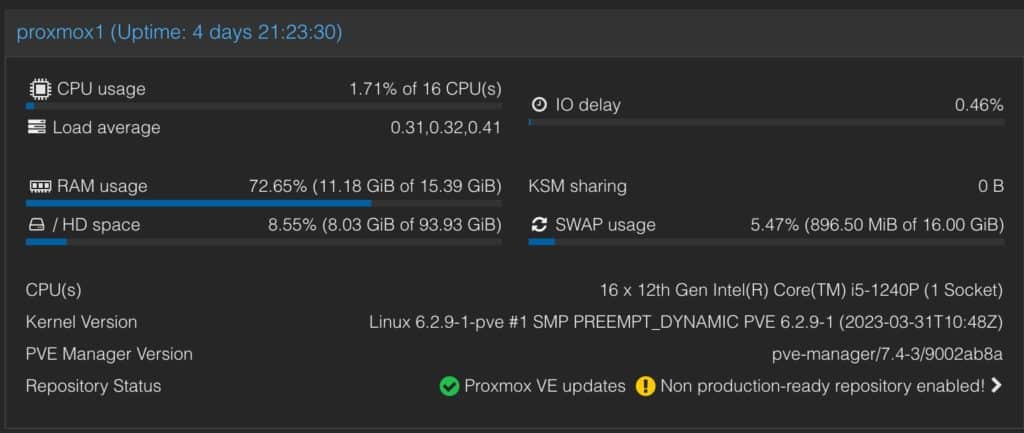 The SEi 12 Pro has an A+E key mini PCIe slot, which is populated with an Intel WiFi card. I have a Google Coral TPU on order which should work nicely in that slot. Once that comes in I'll post about my experience with PCIe passthrough. 
If you want a powerhouse mini-PC that can easily run a Plex Server LXC with hardware transcoding and HDR tone mapping, the SEi 12 Pro is an awesome choice and a strong recommend. Depending on your workloads, RAM might be a limiting factor. It is expandable to 64GB, but only comes with 16GB. The 2.5Gbps NIC is great for future proofing. Although I haven't tried it, it should support a Windows 10/11 VM with GPU passthrough on Proxmox. 
Do note that as of today, Plex Media server supports only hardware transcoding and not HDR tone mapping. That will soon be fixed with an upcoming PMS build with newer Intel media drivers.
Beelink Mini S12 Pro Comparison
If you are interested in the Beelink Mini S12 Pro, but think you might want to spend more for upgraded features, here's comparison of the big differences between the N100 model and the SEi12 Pro Core i5-1240P model:
Single channel DDR4 vs. Dual Channel DDR5
4C/4T vs. 12c/16T
PCIe 1x SSD vs. PCIe 4.0 NVMe SSD (800MB/s vs. 3,500 MB/s)
1Gbps NIC vs. 2.5Gbps NIC
Basic cooling vs. dual fan high performance heat sinks for CPU and NVMe SSD
4x USB-A vs. 4x USB-A plus Thunderbolt 4
WiFi 6 600Mbps vs. 2.5 Gbps
Dual Display vs. Triple Display support
With the N100 model running about $189 vs. $540 (both on sale) for the i5-1240P, there is a big price gap. However, you get a big upgrade in every area. Is the money worth it? Only you can decide. If you just want Home Assistant, Plex, and a few LXCs, the N100 model is more than sufficient.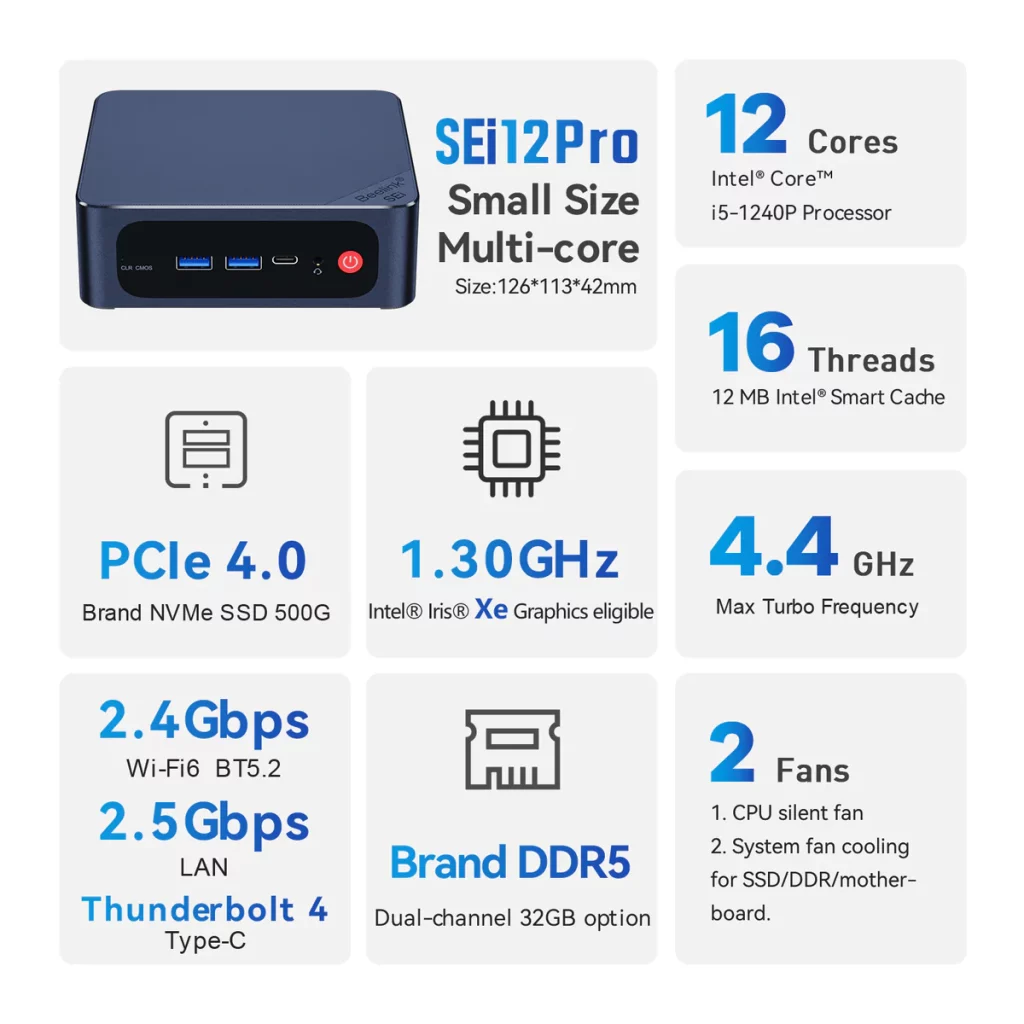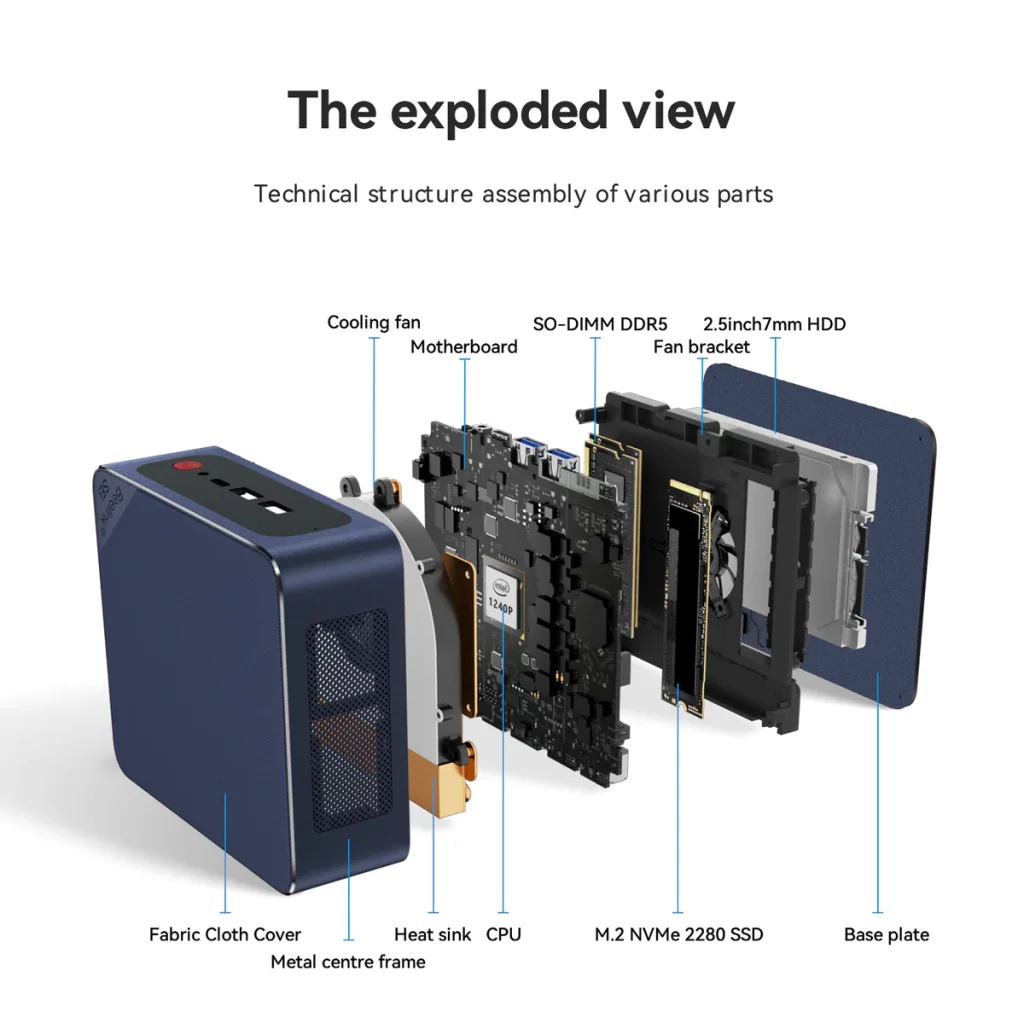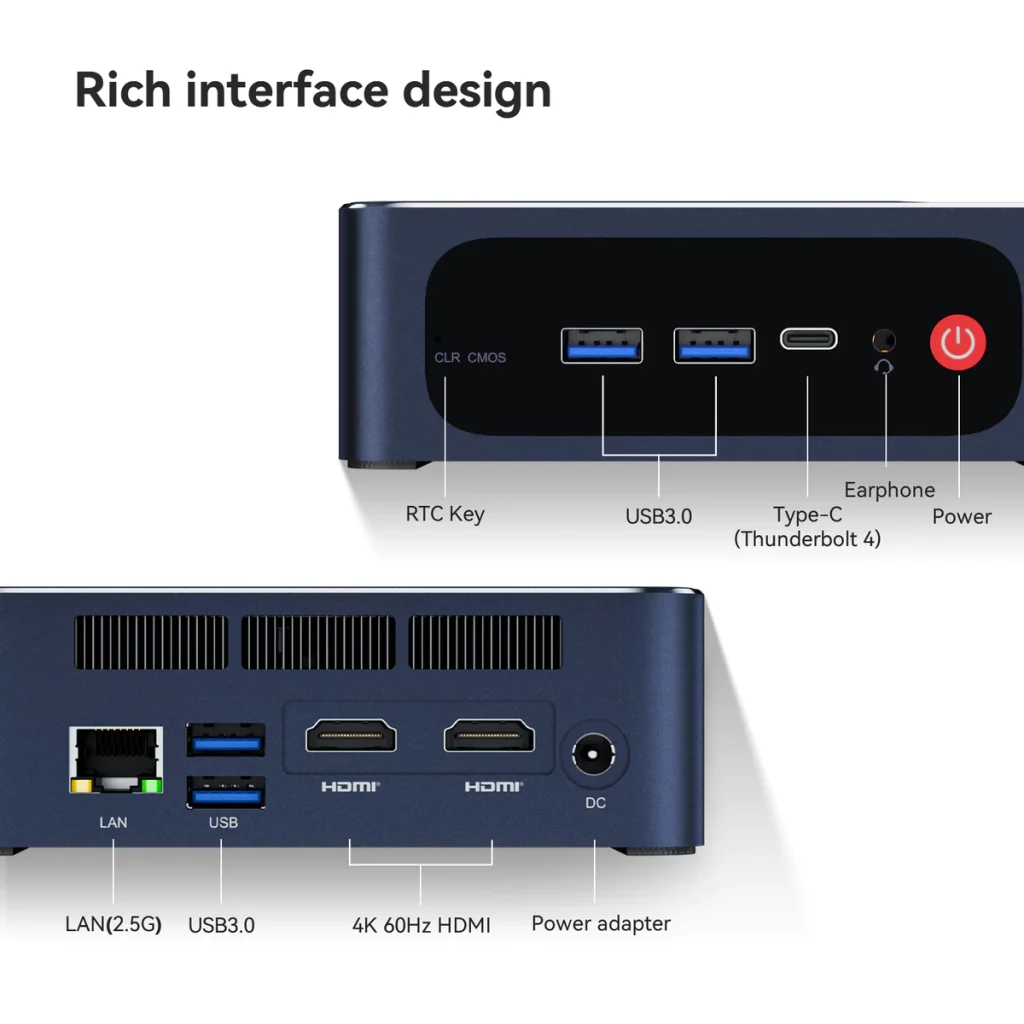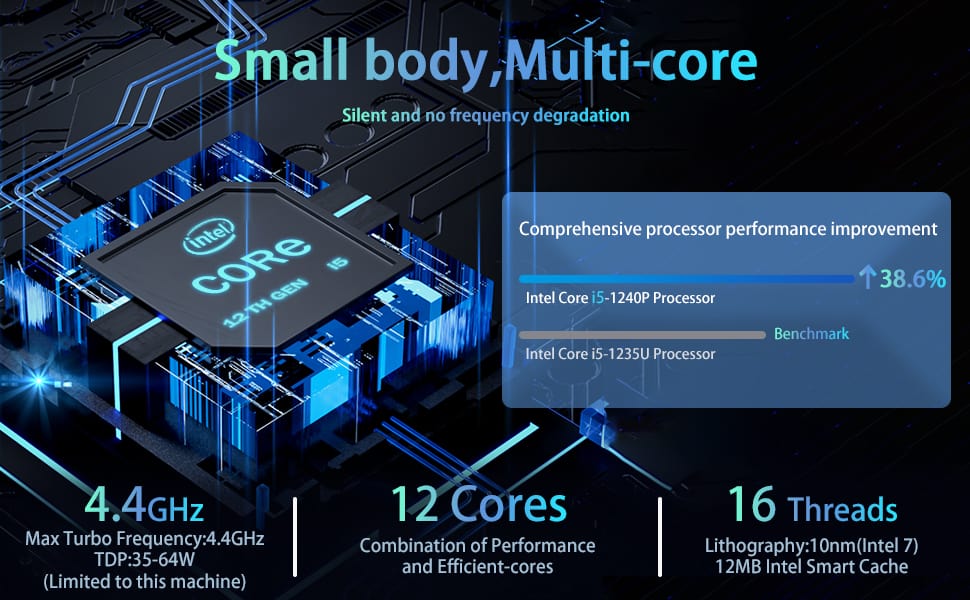 Beelink offers a number of mini-PCs with a range of features. Even the entry level model with the 12th Gen N100 CPU is perfectly fine for Proxmox, Home Assistant VM, Plex Server, and more. If you really want a solid home lab that can be pushed even harder, the SEi12 Pro model offers a substantial upgrade in all areas. Power draw difference between the two is 5w vs. 8w, at less than 5% host CPU utilization on both hosts. If you want a solid Proxmox host for your home servers, I can confidently recommend all three models depending on your requirements and budget. PCIe passthrough for both the GPU and a Google Coral m.2 TPU worked perfectly on the i5-1240P model with an Ubuntu 22.04 VM on Proxmox.