As a permanent remote IT professional I've had a dual 27″ 4K monitor setup for Intel based Macs for a number of years. A few weeks ago I upgraded my personal Mac to a new 14″ M1 Pro, and wanted to keep using my dual monitor setup. However, I ran into a number of (firmware?) compatibility issues with Thunderbolt docks and dongles that made the journey harder than anticipated. I finally found a rock solid combination that I wanted to blog about, and also provide details on what combinations did not work for me.
 I'll first cover my new working configuration in case you don't want to hear my sob story about the list of devices that did not work for me. 
Goals and Monitor Configuration
Before I dive right into what worked for me, let's backup one step and cover what goal was and what monitors I'm working with. My goal was to drive dual 4K/60 monitors from my M1 Pro Mac via a single cable from my Mac to a Thunderbolt dock. I also wanted this dock to provide 96w PD to my Mac for charging, and several USB-A ports for various peripherals. 
I have two BenQ PD2720U monitors, which have a variety of video inputs but for the purposes of connectivity to my personal Mac I wanted to use DisplayPort v1.4 and not HDMI or direct Thunderbolt daisy chaining. 
With my Intel Macs this configuration was a breeze, as there are a number of dual DisplayPort Thunderbolt docks on the market that worked well. So I figured it would be a plug and play operation with my existing dock when I got my M1 Pro Mac. Nope! 
The Winning Dock and DisplayPort Dongle
January 2023 Update: Plugable just released their TBT4-UDZ Thunderbolt 4 dock. For me, it has the perfect set of features and is now my new dock for my 14″ M1 Pro. The only issue I had with the Satachi dock and the OWC DP dongle was that whenever I docked my laptop, macOS would flip the side-by-side position of my dual BenQ monitors. So I'd have to manually re-arrange them in the Ventura settings app. Quite a pain. That issue is not present on the Plugable dock. 
$299 Plugable TBT4-UDZ features:
98w PD charging
2.5G NIC (Realtek RTL8156B; PnP with MacOS Ventura, WoL, jumbo frames)
2x HDMI 2.0 ports 4K 60Hz
2x DisplayPort 1.2 40K 60Hz
6x USB-A ports (various speeds)
1x USB-C port (10gbps)
1x Micro SD; 1x combo SD/SDHC/SDXC/MMC
1x Headset jack

Supports dual 4K/60Hz on Mac, and up to 4x 4K@60Hz on Windows. See detailed spec sheet here for video support. My only nitpick is the over abundance of USB-A and only one USB-C. I'd like to see at least 2x USB-C and drop one USB-A.
————
The end of this article will cover all the docks and dongles that didn't work for me, but here I'll cover what I finally picked and has been rock solid. As previously mentioned, ultimately I wanted a solution using ThunderBolt 3 or 4 to provide 96w PD charging, at least 3 USB-A ports, LAN port, and dual DisplayPort v1.4 outputs for my monitors. I did extensive research, and the number of options was quite limited.
Thankfully, Satechi just brought to market a Thunderbolt 4 dock that met nearly all of my requirements, minus video outputs. It's so new, it's not on Satechi's own website, but is in stock and sold through through Best Buy. It's model ST-UCT4DM and retails for $299 but is on sale for Black Friday for $249.99.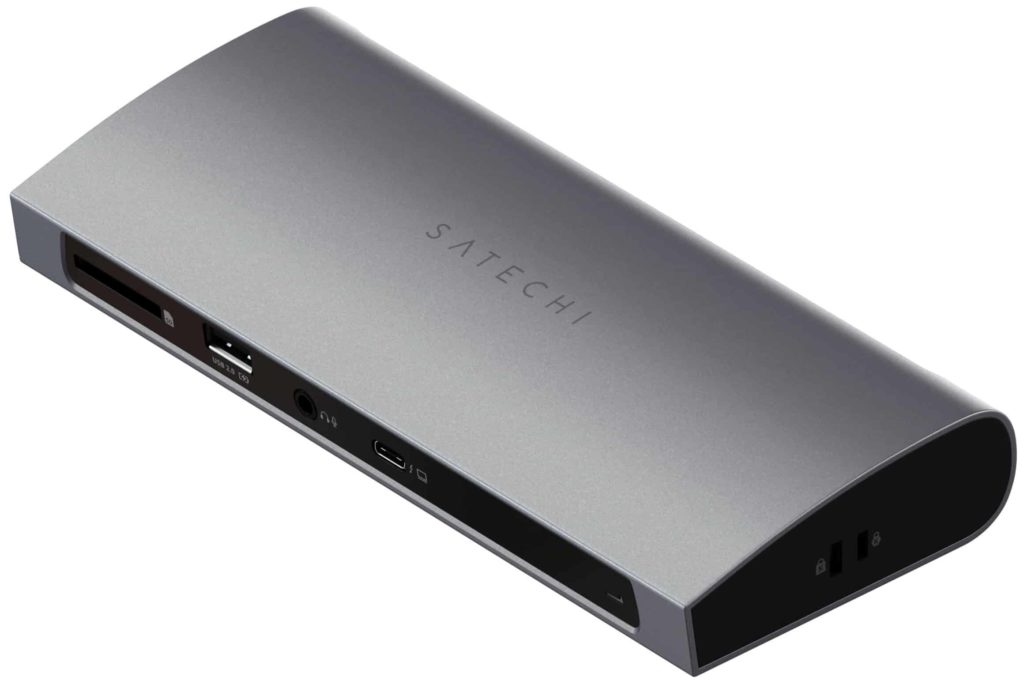 This Thunderbolt 4 dock has the following ports:
1x Front USH-II SD Card Reader
1x Front USB-A 2.0 port (supports charging)
1x Front 3.5mm headphone/microphone combo port
1x Front host Thunderbolt 4 host port with 96w PD
3x Rear Thunderbolt 4 ports
1x Rear Gigabit LAN port (Realtek 8153)
3x Rear USB-A 3.2 Gen2 ports
1x DC input port (20v 6.75a)
As you can see, it has all the ports I wanted except video outputs. I have a number of other Satechi products, and I've always been very happy with them. And they come in space grey, which matches the Apple space grey very well. 
The dock feels very well made, and has a great micro-textured finish. And to me it's visually appealing, unlike some other more utilitarian docks on the market. And after using it for a few days, it only runs slightly warm to the touch unlike other docks that can be little ovens. Also, for Mac users the NIC drivers come with macOS, so there's no need to install third party drivers to get network connectivity.
Now that I got a dock that I really like, it was time to research DisplayPort dongles. After several failures (covered later), I stumbled upon the $78 OWC TB3ADP2DPT.  This Thunderbolt 3 dongle supports dual DisplayPort v1.4 outputs, 8K and 4K resolution, and is physically very small. Winner winner chicken dinner. 
After numerous previous failures, when I connected the Satechi dock and plugged the OWC dongle into the dock I instantly had glorious dual 4K/60 output that was rock solid! Mission accomplished. The combination has been wonderful, and even through several sleep/wake cycles the monitors and USB ports come instantly to life.  
My only nitpick with this setup is that Satechi didn't go with a 2.5 Gbps NIC in the dock. Although I couldn't find any resellers, the Good Way DBD1330 is very similar but does support a 2.5Gbps NIC. 
As I have previously covered, I wanted to connect my BenQ monitors via DisplayPort v1.4 and not HDMI. With my previous 13.3″ Intel Mac, I had long used a Wavlink WL-UTD23. This dock had it all built in…dual DP outputs, USB-A ports, LAN, etc. I fully expected a plug-and-play experience with my M1 Pro Mac. Unfortunately, this was not the case.
With the WL-UTD23, only one DisplayPort was fully functional. While MacOS would recognize the second BenQ monitor, the actual monitor had no output…was just black. 
After that failure, I ordered a Cablematters 14-in-1 Hybrid dock. On paper, this was an awesome dock. Dual DisplayPort v1.4 (and HDMI) outputs, USB-A, LAN, 96w PD, etc. However, this also failed me and didn't work with my M1 Pro (although it worked flawlessly with my Intel Mac). However, the symptoms here were a tad different. Again, one BenQ would work just fine via DisplayPort, however the second BenQ (via DP), was non-functional. In the macOS display app the second monitor would appear then disappear every few seconds in an endless cycle. 
I could get the second BenQ working via HDMI, which was odd. Also, an old 1080P Dell worked via DP on the second DP port as well. But getting dual DP 1.4 monitors at the same time proved to be impossible. 
Just in case this was a BenQ issue, I tried a Samsung 28″ 4K DP 1.4 monitor (LS28AG700NNXZA), and that was even worse! Again, the second monitor output was black but when I pulled the DP cable out from the Cablematters dock macOS Monterey instantly crashed and rebooted. So back went the Cablematters dock. 
The Failed M1 Pro Displayport Dongle
Since I was very happy with the Satechi dock, I now needed to final a dual DisplayPort v1.4 dongle that was rock solid. First up, was the Wavlink UTA21D. Unfortunately, this was a no go. While one monitor would work just fine, the second monitor would blank out every 20-30 seconds and then re-establish a picture. This happened in an endless cycle, so back went this dongle. 
I thought there might be a consistent issue with a DP v1.4 chain, so I tried the Wavlink UTD05. While this dongle worked for driving both of my BenQ monitors (albeit DisplayPort v1.2), the dongle was huge and the NIC had no native macOS driver. So this dongle went back, and I found the previously mentioned OWC which worked perfectly and is physically very small. 
Clearly trying to drive dual 4K DisplayPort v1.4 monitors on a new M1 Pro Mac can be fraught with compatibility issues. I don't know if the problem lies in the dock/dongle firmware, Monterey, or some combination. But, the Satechi Thunderbolt 4 dock plus the OWC dongle has been totally flawless and I can highly recommend this combination for your M1 Pro/Max Macs.