Normally I don't blog about home PC topics, but I haven't blogged for a bit and came across something today that I thought was worth mentioning. Basically, this is a quick review of Acronis True Image 2017. About 18 months ago I wanted to backup my PC to the cloud, as I have more than 1TB of travel photos from all over the world that are irreplaceable. I use OneDrive for my documents, so they were safe. After doing some extensive research back in early 2016 I settled on Carbonite for my PC backup. It was highly rated, and also had unlimited cloud storage.
Fast forward to today, and my home PC started acting up. Not sure what caused it, but Windows 10 was crashing and freezing on me. It came to the point where I thought about restoring to my last good backup instead of trying to troubleshoot the root cause. My home PC (and laptop) are pretty new and have NVMe drives. It really didn't cross my mind that could be a problem for restoring from a backup with Carbonite.
As it turns out, from everything I could tell, Carbonite has been slow on the NVMe uptake and do not support booting from their recovery media and restoring to NVMe. I found a reference on their site that said NVMe was specifically not supported. They also have a very long laundry list of file extensions that are excluded from a cloud backup (but can be backed up via their local mirror option). Needless to say, I was not happy with Carbonite when it came to doing a restore.
So after more research today, I settled on Acronis True Image 2017 Next Generation. It has a number of  unique security features, such as anti-ransomware protection (important to me), digitally signed backups via blockchain, universal restore (restore a backup to dissimilar hardware), and can also backup your phone to the cloud. They also have Facebook integration for backing up all your FB photos, videos, and posts. I had used Acronis previously (in 2014), and knew recovery disk and baremetal restores were their bread and butter. I also did research on NVMe support, and it looked like I was good to go on that front.
I downloaded the trial of the premium version of Acronis True Image 2017, and was pleased at the simple installation procedure. I configured a cloud backup job, and also a local backup job to an external USB drive. I then proceeded to make a WinPE based recovery media USB stick using the MVP Custom Media tool. That was pretty easy to do. I booted from the USB stick on my NVMe Lenovo 910 and viola! It recognized my drive and if I needed, I could easily restore my data.
I now feel a lot better about being able to restore my data in case I need to re-image a computer from scratch. You can also easily inject your own drivers into the WinPE image to recognize things like NICs, WiFi, etc. So there's a lot of room to customize the recovery image, if needed. There are also a lot more backup controls than Carbonite, and has other features like 'clone disk' and 'drive cleanser', all of which could be useful. I also installed their client on my iPhone, and started a full cloud backup. Here's a screenshot of the main dashboard.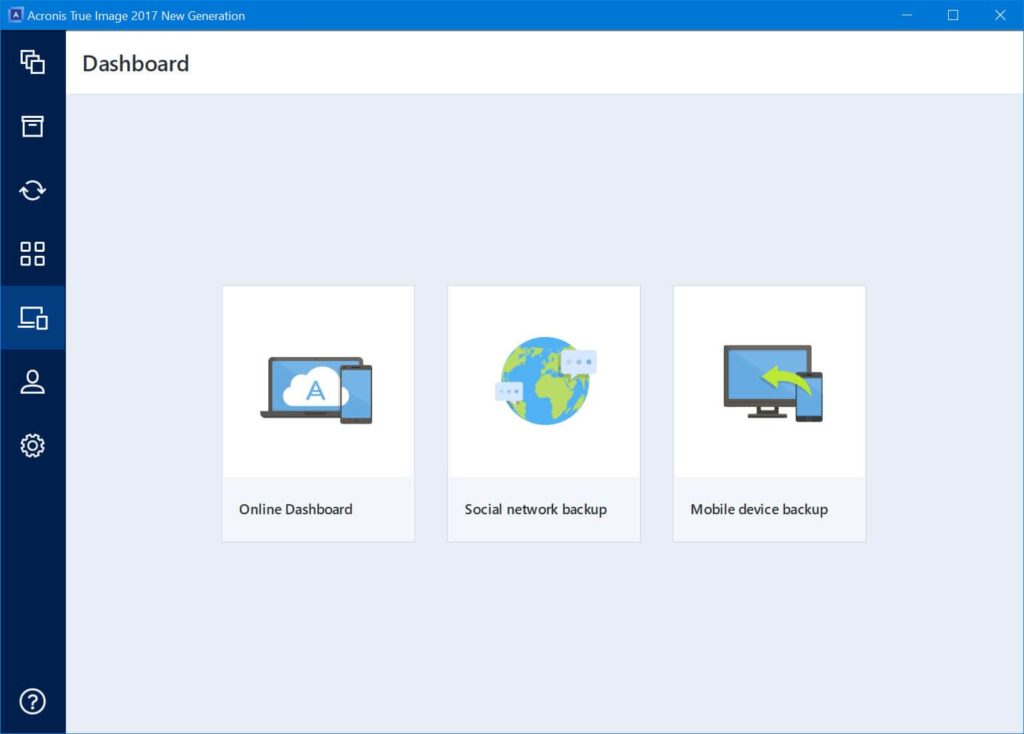 I'll continue to use Carbonite on my PC until my subscription runs out. Can't hurt to have files in two clouds, although Carbonite isn't a full cloud backup whereas Acronis does backup everything (or you can select what you want via partitions or folders/files).
Bottom line, if you have backup software, make sure you can restore from it on your hardware! Today we aren't just dealing with simple SATA drives so don't assume if you have a fancy NVMe or PCIe drive that you can restore to it from bootable media. If you do want to purchase Acronis True Image 2017, be sure to do it through the Ebates.com portal for 20% cash back.