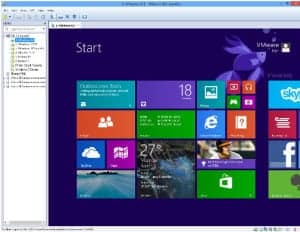 Hot off the press is VMware Workstation 10. Even if you are a full blow VMware ESXi lab like I do, I still like running Workstation on my primary PC for various purposes. It's also great for web surfing in a stateless VM, if you are worried about malware. I'm getting ready to reload my PCs with Windows 8.1 when it ships next month, so I'm looking forward to Workstation 10.
VMware Workstation 10 Features:
Full Windows 8.1 support
Support for 16 vCPUs, 8 TB SATA disks and 64GB of RAM
New Virtual SATA disk controller
Now supporting 20 virtual networks
HD Audio with 7.1 surround sound
Bluetooth
USB3 streams support for faster file copying
Improved application and Windows VM startup times
Granular RBAC (role based access control)
SSD Pass through
VM Expiration
Virtual tablet sensors that enable virtual machines to take advantage of the accelerometer, gyroscope, compass, and even the ambient light sensor when running on a tablet.
Multiple monitor set-ups are easier than ever, whether you are using 2, 3, or 4
VMware-KVM provides a new interface for using multiple virtual machines
Documentation and release notes are here. Some of the documentation links are not yet live, like the release notes. If you want to try it for free, click here. For non-evaluation downloads, click here.